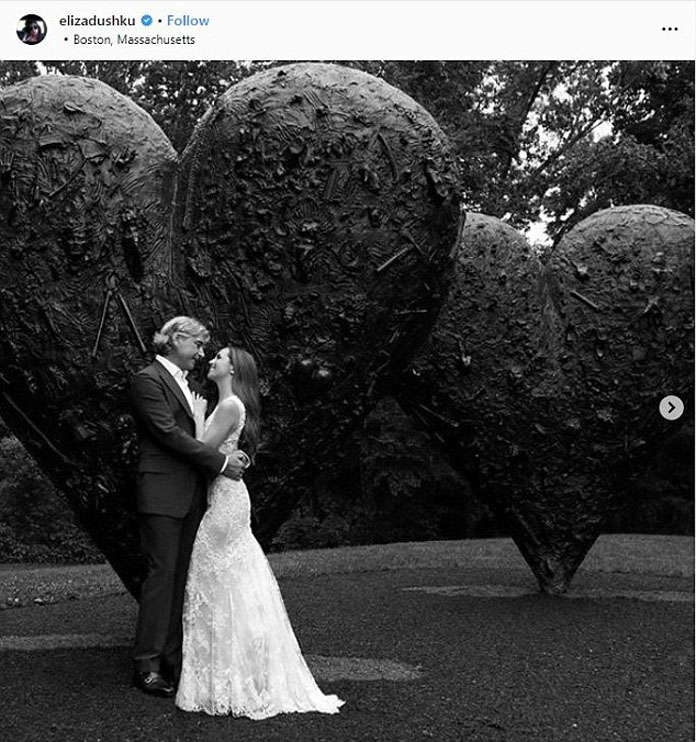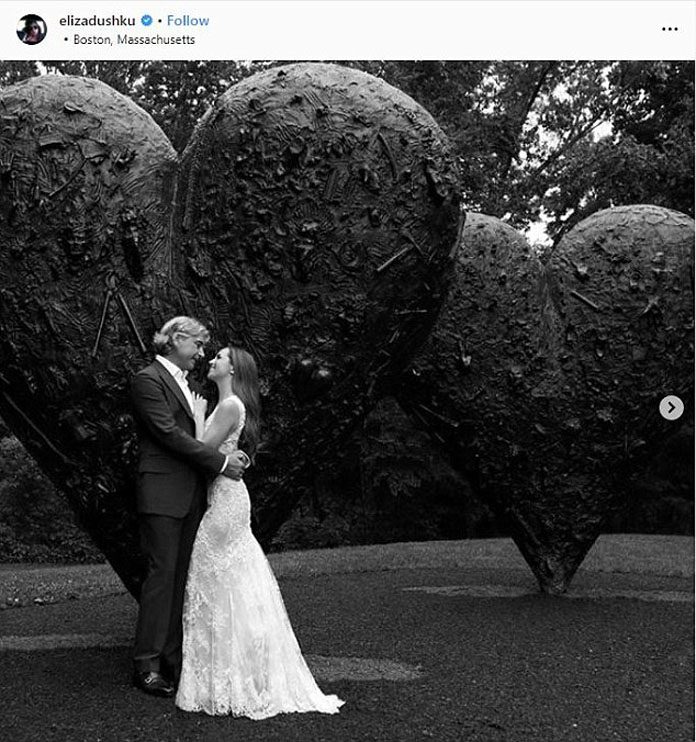 It's Official! Eliza Dushku has finally announced her marriage with Peter Palandjian. Eliza is well known for her role in Buffy the Vampire Slayer. She announced the news of her marriage on the 3rd Sunday of September 2018. Her fans were quite shocked and amazed by her sudden marriage announcement. The two were seen together a lot of times but they never really talked openly about their relational. Despite the huge age difference, the couple looks fantastic together. Peter Palandjian is the CEO of an International Real Estate Corporation. Palandjian also has four kids from his previous marriage – Petros, Madelon, Margot, and Mangol.
When, Where and How?
Eliza's marriage announcement made all her fans curious to know the story behind the secret wedding. The actress took made an Instagram post revealing the big news. The pic was captioned "8.18.18", certainly mentioning her wedding date. The bride was looking stunning in her attire.
The beautiful actress was seen in a gorgeous lace grow that has a cutout back and a little train. Peter was wearing a navy suit sans tie. They looked terrific posing together. They were seen posing in front of 2 big hearts, lovingly looking into each other's eye. The photo is said to be taken at a fountain in the Boston Public Library courtyard.
When did it happen?
The actress revealed that she married his man in August. But, she did not feel right sharing the news instantly. She also revealed that they got engaged in June 2017. They have been planning a lot for their big day and wanted to be as limited to the guest list as possible. They decided to invite some of the very close friends and family member to the wedding.
Where?
Photographs posted by Eliza Dushku revealed that the wedding took place in Boston. She said "Yes!" to his love in the courtyard of the Boston Public Library. It was a secret wedding, and only close friends and family were invited. The wedding happened on the 18th of August 2018.
Eliza is keeping her special moments out from the spotlights. But, she is often seen posting pictures of her wedding occasionally on to her Instagram handle.
Well, we really wish that Eliza all the happiness she has always desired and hope the same for Peter as well. We hope that this lasts forever and they both live a happy married life.