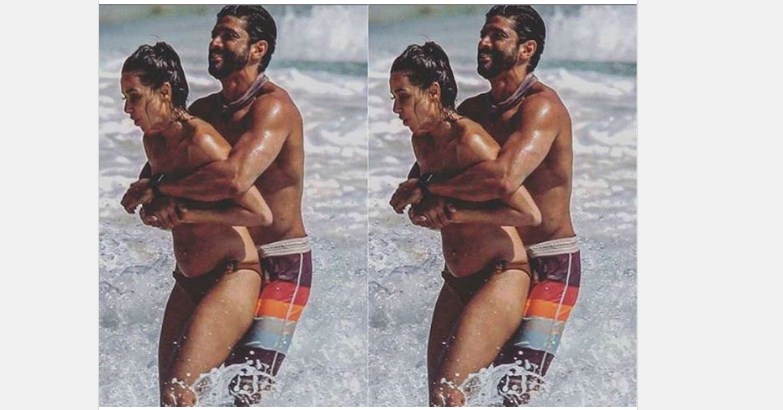 There is strong reaction from the family of Farhan Akhtar, as Farhan Akhtar-Shibani Dandekar's PDA upsets family. According to family and friends sources, their intimate pictures are not like by the family. And family has shown concern over their pictures surfing the social media. Farhan Akhtar all set to marry his lady-love singer Shibani Dandekar? But his family members are not impressed by the couple's sudden upsurge of public affection.
On the other hand, Farhan's friends also complained about such pictures. They said that Farhan don't have time for them. And his non films or showbiz time is spending with Shibani. Well Farhan is a father of two growing-up daughters. He has every right to be happy in life. But this sudden gush of PDA with his girlfriend is most unexpected.
Farhan Akhtar-Shibani Dandekar's PDA
According to family, Farhan was never so demonstrative with Adhuna (his first wife). His family is wondering what's gotten into him. Reports said that earlier, Farhan is not very keen to shares his private pictures or family pictures on Instagram.
But Maybe Shibani's style of sharing photos has kicked him to share pictures. According to some, perhaps Shibani feels insecure and that why she shares her picture with Farhan on Insta to remind of the relation. She needs Farhan to let the world know that they are a couple," stated the source.
After the couple started their relationship, and PDS becomes the headlines of Showbiz world.  Their recent trip or you can says holidays vaccinations has parked the media. The Instagram pictures of both and other bold bikini photos  are disliked by the fans and family as well. There's major gossip around Farhan and Shibani's marriage. The actor-filmmaker also hinted that he might tie the knot this year.
While speaking on a chat show, when Shibani asked him, "Hey Farhan, are we getting married in April or May? Can you please let me know because I am very confused?" A smiling Farhan replied, "I think she is having a lot of fun with a lot of news that is going around currently, about us looking for wedding planners."