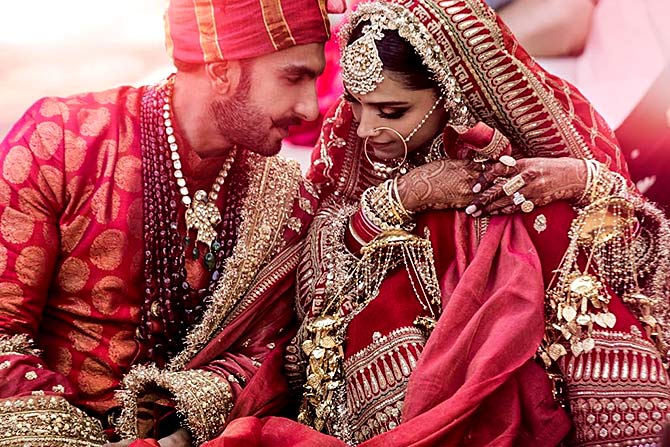 Finally the curiosity is over, Ranveer Singh and Deepika Padukone weds on Lake Como in Italy. The BollyWood couple, Deepika Padukone and Ranveer Singh, who has been in a relationship for almost six years have finally tied the knot .The couple got married in Konkani rituals among their close family and friends on November 14. This was followed by another wedding on November 15 following the Sindhi traditional ceremony. Fans around the world waited to catch a glimpse of the wedding.
Deepika Padukone and Ranveer Singh are expected to return to India on November 18 and their wedding festivities will continue with the receptions. These receptions will take place on November 21 in Bangalore and November 28 in Mumbai.
The Complete Picture
The Wedding
With fans much curiosity over the dress of bride and groom, Deepika looked regal in a gold, ivory and saffron saree. This saree is specially made for her wedding by designer Sabyasachi Mukherjee. The heavy statement necklace, mathapatti and traditional jewellery were absolutely breathtaking.  Ranveer was a dapper man who wore traditional white kurta and mundu (dhoti). The lavish Mangalorean food was served on banana leaves. Even the Italian staff was dressed in traditional South Indian attires. Not just that, the Italian staff was greeting the guests in Hindi and Konkani.
The Wishes from Bollywood
As soon as the first pictures of the Deepika Padukone-Ranveer Singh wedding were posted by the stars on their Instagram account Bollywood celebs took to social media to wish the couple.
Anushka Sharma; Wishing you both a world of happiness and a beautiful journey together. May the love & respect you have in each other, grow leaps and bounds. And welcome to the club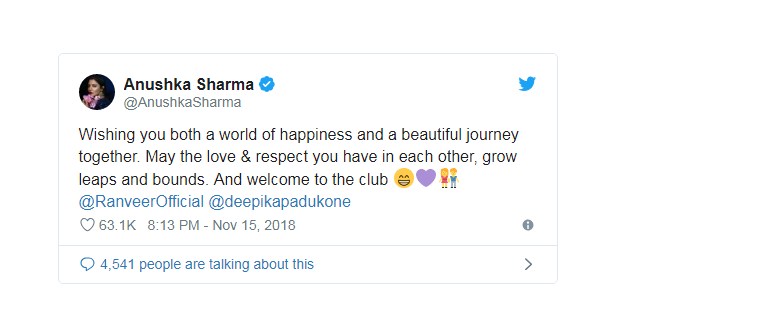 Karan Johar: Love and happiness forever…..these are such a full of pyaar wala pictures! For those of us who don't have a life partner it's a very "haiiiiiiiii" wala feeling!
Shilpa Shetty: Congratulations! You both look gorgeous…Nazar na lage.
Sonu Sood" Mubaarak ho mere bhai.
Anand Ahuja: "#PartnersForLife…wish you both endless growth, fulfilment and happiness, "love is not something you can put into motion, or has a time schedule: #lennon… Congratulations on finding your time and celebrating the union together'.
Alia Bhatt: Uff.
Praiyanka Chopra: Insanely Beautiful.
Arjun Kapoor: Jashn E Ishqa.
Katrina Kaif: Congratulations to both of u.
Hrithik Roshan: Huge congratulations.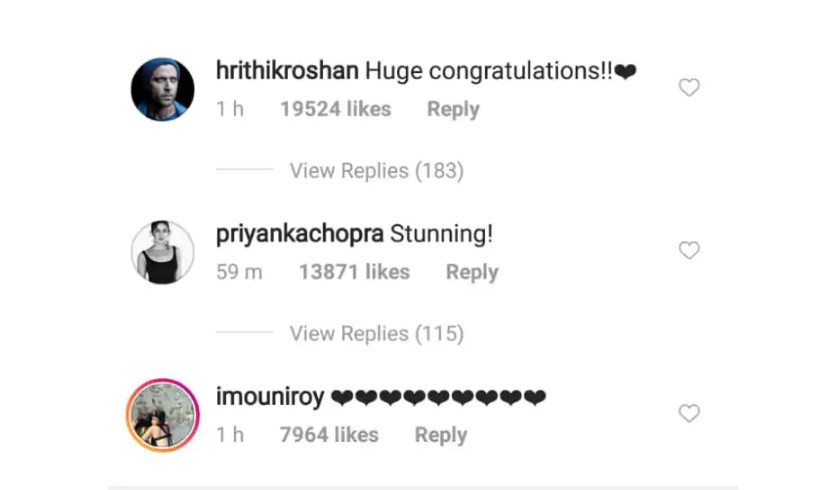 Why No Bollywood
While the exact guest list for Bollywood's Wedding of the Year is not known as yet. Well the decision about Bollywood invitation was a decision taken by the couple in the final week before their marriage. Close friends from the film fraternity advised them to exclusively invite their non-Bollywood friends.
"Ranveer and Deepika were keen to have a handful of close friends among the invitees at the wedding. Shah Rukh Khan, Karan Johar, Rohit Shetty and Sanjay Leela Bhansali were invited. But they suggested to the couple that it would be better if Bollywood was completely blocked from the wedding. Inviting a few from Bollywood would make the rest restless. This explains the zero presence of Bollywood at the wedding. The handpicked guests were treated like royalty.