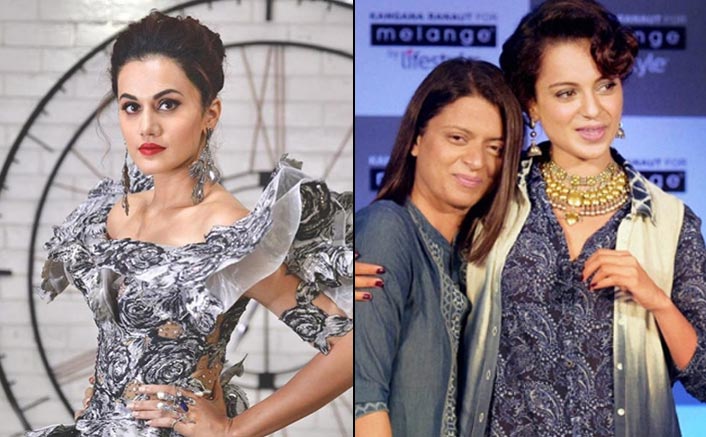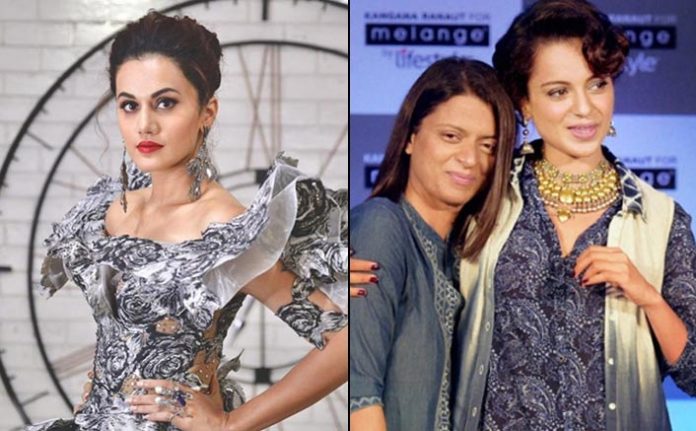 It seems that the tension and hatred between Kangana's Sister Rangoli Chandel and Taapsee Pannu is not over. Once again Rangoli Chandel slams Taapsee Pannu for taking the name of Kangana during her film promotion Mission Mangal. Well, the war of words is not over and started where it was left earlier.  During her latest interview on her recent film, she ironically comments on Kangana Ranaut. Taapsee mentioned Kangana's statement of supporting women and said, "She has always spoken about how a woman should support another woman, but I did not hear any words of praise for my films.
The Statement
The actress further said that there have been five women in the film Mission Mangal. And women supported in Bollywood didn't come up and support the film. She asked the question, "Is she praising us? I am her junior and don't have a filmography as her, but I have done a decent number of films for someone to be appreciative of it."
Rangoli Chandel Slams Taapsee Pannu
Well, the statement didn't go unnoticed and reached the person, where it was intended for. Soon after the statement, these remarks on Kangana made her sister furious and Rangoli took to twitter to call her out in a series of Tweets. One of her Tweets read, "yeh Madam is attacking Kangana everyday,arrey bhai tune kya kiya hai for what we should praise you? 2 mins role in a film lead by Akshay Kumar and Vidya Balan.
It didn't stop here, in another tweet, Rangoli by tagging Taapsee wrotes, @taapsee, says that the only reason media calls her for is to discuss Kangana.
To a surprise, talking about Bollywood icons who inspire her, Taapsee said, "Priyanka Chopra, I think what she has done for herself is brilliant. Kangana because she voices what she wants to, without bothering. Anushka, I think she is someone very honest."
In her tweets, Rangoli initially asked Taapsee to respond to her directly instead of going to the media. She further said that the media calls Taapsee only to discuss about Kangana Ranaut.
Earlier
While, earlier reacting to this, Taapsee had said, "Seriously, I will not apologise for my honest opinion. I did not know that she has a patent on curly hair because I born with curly hair and my parents are responsible for that. So, I cannot apologize for that either. Rest, I do not know what else I have copied, said Taapsee, adding: However, if I am a copy of a good actress like her (Kangana) — and I always maintain that she is a good actress — I take it as a compliment."
Taapsee Pannu had also revealed that she was disappointed by Kangana's comments. "It was a shock because it came from someone I always admired. I felt disappointed. When someone you had put on a pedestal does this, it makes you question if you were right in looking up to her.